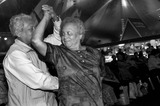 Living Labs
To further develop viQtor, smartQare is setting up so-called Living Labs at a selected number of healthcare organizations. In these living labs, healthcare professionals and patients can get acquainted with our innovative technology in a realistic setting. In this way we experience together how viQtor works and what 24-hour monitoring can contribute to healthcare. The Living Labs also offer plenty of room for new ideas, which are subsequently developed and tested in co-creation.
Also interested?
Do you want to be the first to gain access to the unique smartQare solution with your healthcare institution? And would you like to participate in the further development of our product in your own Living Lab? Then we would like to get in touch with you.
I am curious about the possibilities!