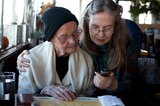 viQtor for frail elderly people with care at home
Because you would like to continue living in your own home. Because you want to remain independent. Because you want to keep doing all the things that make life so worth living. That's why you wear viQtor.
More sense of security
We live longer. That's a great fact. However, at a certain moment we need help while growing older. We prefer to stay in control of our lives. We want to decide for ourselves when we need support. And whether we want to receive that support from family, or acquaintances, or from professionals.
viQtor was conceived by Reinier Vrolijk and Ronald Olie, the founders of smartQare. They were both caring for a vulnerable parent at home. Their idea: to keep an eye on their parents with an easily portable device and an app, to give them a greater sense of security and thus remove the barriers to a more active life. In addition, as informal caregivers, they wanted to be able to provide help when needed. For example, healthcare professionals only need to be engaged to provide the care that is required of professionals. A great initiative, particularly now that nurses in home care are not always available.
What can viQtor mean at home?
viQtor is intended to support vulnerable people at home. In this way they retain self-management and improve their quality of life. viQtor ensures faster intervention in the event of a fall, an alert or a deterioration of vital values. In the future, viQtor will also predict deterioration and medical risks (such as a fall) based on smart algorithms. This way we can prevent medical issues and avoid medical care.
How does viQtor work?
viQtor has a unique combination of functions, so that care for vulnerable elderly people can be optimally supported. The device continuously measures a number of vital functions of the body: pulse rate, oxygen saturation and skin temperature. This allows doctors and caregivers to see how things are going from a distance, and to intervene in time when necessary. In addition, viQtor has an activity monitor, fall detection and a help button. When using the help button or when a fall is detected, the location is also determined very accurately.
viQtor automatically measures every minute and sends the average of the measurements to the viQtor platform every 5 minutes. This is done via a highly secure internet-of-things (NB IoT/LTE-M) connection, without the intervention of another device, such as a smartphone or WiFi.
It may take some time to get used to being monitored. But it's also a comforting thought. Knowing that someone is watching you gives a sense of security. This way you can continue to do the things that are important to you for as long as possible. And stay in control of your life.
Benefits for healthcare professionals
viQtor also has many advantages for healthcare professionals. The system retrieves relevant data 24/7 and thus provides a continuous overview of how the client is doing. Thanks to this continuous stream of relevant information, deterioration is quickly visible. Early intervention can prevent acute care. Fewer human actions are required to perform the measurements, which makes care provision easier to plan.
viQtor also makes it easier to include informal care givers in the care provision. With the right protocols, informal caregivers can be involved in the handling of alerts or incidents. This prevents expensive care when it is not necessary.
The viQtor platform can be linked to client and patient files. This means that all data is immediately available in the right place.
Medical Service Center
viQtor generates a continuous stream of medical data and other important information. This data is clearly displayed in the online dashboard and in the apps. Trend lines indicate the wearer's heart rate, oxygen saturation, skin temperature and level of activity. An alert is automatically generated when the set limit values are exceeded, in the event of a fall or when the help button is used.
Agreements are made with the (home) care organization about who will take action at what time on the basis of this data. By calling in a Medical Service Center such as NAAST-ZCN, one of our partners in the Netherlands, a large part of the response can be moved to other care providers than the home care employees. In this way, home care workers can devote their time to the clients who really need their help. Making the right agreements about this together is part of the implementation phase of viQtor.