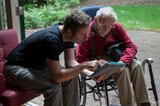 viQtor for people with (long) COVID
Because you can still become seriously ill from a COVID infection. Because you may need to be hospitalized. Because you can still have serious complaints after an infection. Because you want your doctor to have insight into your condition during your illness or rehabilitation from COVID, so that he can intervene or make adjustments in time. That's why you wear viQtor.
Since 2020 we have a new challenge in healthcare: COVID. And we're not done yet. New infections are still occurring daily. Patients with a COVID infection still end up in hospital and even in intensive care. People are still dying from or with a COVID infection. And many people still suffer daily from a previous COVID infection. Sometimes so severe that they cannot work or function normally. This is called long COVID.
What can viQtor mean during a COVID infection?
The care for vulnerable COVID patients in the home situation is experienced by general practitioners as intensive and burdensome. From a distance it is difficult to estimate how the patient is doing, while there is a lot involved in a home visit. Based on the continuous monitoring of oxygen saturation, heart rate and activity, the doctor or general practitioner has an overview of the patient's condition at any time. Deterioration can be detected early and timely intervention can be made. This provides better COVID care for the patient.
What can viQtor mean for long COVID?
There is now a large group of people who suffer from long-term and serious complaints after a COVID infection. These complaints can have a serious impact on people's functioning in daily life. Some of these patients with long COVID receive care at home or care in (or from) a rehabilitation institution. Insight into the vital signs and condition of these patients can help to better understand and treat the complaints.
How does viQtor work?
viQtor has a unique combination of functions, so that the care for patients with COVID or long COVID can be optimally supported. The device continuously measures a number of vital functions of the body: heart rate, oxygen saturation and skin temperature . This allows doctors and caregivers to see how things are going from a distance, and to intervene in time when necessary. In addition, viQtor has an activity monitor, fall detection and a help button. When using the help button or when a fall is detected, the location is also determined very accurately.
viQtor generates alerts and trends. Trend values provide insight into the health situation of patients with long COVID. This insight can be very valuable during rehabilitation of this group.
viQtor automatically measures every minute and sends the average of the measurements to the viQtor platform every 5 minutes. This is done via a highly secure internet-of-things (IoT) connection, without the intervention of another device, such as a telephone.
Medical Service Center
viQtor generates a constant stream of medical data and other important information. This data is clearly displayed in the online dashboard and in the apps. Trend lines indicate the wearer's heart rate, oxygen saturation, skin temperature and level of activity. An alert is automatically generated when the set limit values are exceeded, in the event of a fall or when the help button is used.
Agreements are made with the practice or healthcare institution about who will take action at what time on the basis of this data. By calling in a Medical Service Center such as NAAST-ZCN, one of our partners in the Netherlands, a large part of the response can be moved to other care providers. In this way, doctors and general practitioners can spend their time differently. Making the right agreements about this together is part of the implementation phase of viQtor.
Benefits for healthcare professionals
The guideline of the Dutch Association of General Practitioners indicates that the following vital signs are important for the diagnosis of COVID: oxygen saturation (SpO2), heart rate, respiratory rate and, if necessary, blood pressure. Between the 5th and 12th day of the illness, sudden deterioration of health can occur. Important indicators for referral and possible hospitalization are resting respiratory rate (above 24 per minute) and SpO2 values (below 92% to 94% for non-COPD patients).
Studies indicate that SpO2 values below 92% and/or a rapid drop in the SpO2 value of more than 5% are strong indicators of the deterioration of the condition.
Due to the limited availability of hospital beds, patients with COVID are treated at home as much as possible. The letter from the Minister of Health to the House of Representatives about the long-term approach to COVID also emphasizes the importance of home monitoring and oxygen therapy. In this way, hospitalization can be prevented or shortened and care can be relieved.